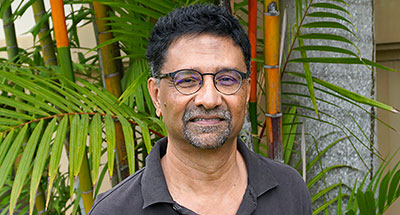 Sankaran Krishna
Professor
Office: Saunders 640D
Telephone: 1 (808) 956-8841
Email: krishna@hawaii.edu
---
Browse My Publications:

Chancellor's Teaching Award (2008)
Background
I grew up in an India where movies still began with a Films Division documentary heavy with the theme of development and ended with the national anthem. My high school finals in Madras coincided with the defeat of Mrs. Gandhi's Congress party in the parliamentary elections of 1977 and the resounding rejection of the Emergency. That experience probably awakened an interest in politics and contemporary affairs that has endured. I enjoy reading widely, with a special affinity for South Asian writing in English. I am a life member of the world's largest club of the perennially disappointed — the Indian cricket fan — and firmly believe that behind every sub-continental academic lies a failed cricketer. I consider myself very fortunate to get to live in Hawaiʻi and to have the colleagues I do.
Education
PhD, Political Science, Syracuse University, New York, USA, 1989
MA, Modern History, Jawaharlal Nehru University, Delhi, India, 1982
BSc, Chemistry, Physics & Mathematics, Loyola College, Chennai, India, 1980
Courses
POLS 110: Introduction to Political Science
POLS 305: Global Politics/Comparative
POLS 390: Political Inquiry and Analysis
POLS 406: Senior Seminar in Political Science
POLS 600: Scope and Methods of Political Science
POLS 630: International Relations
POLS 640: Comparative Politics
POLS 710: Seminar: Political Thought
POLS 740: Seminar: Comparative Government and Politics
Research
I work in the areas of international relations, postcolonial studies, and political economy with a focus on India/ South Asia. I am especially interested in how the project of nation-building in postcolonial South Asia has evinced ethnic, regional and other resistances even as it has failed to deliver on development and dignity to the majority of its people. The second strand of my research is on the discipline of International Relations, specifically on its Eurocentric epistemology and its obliviousness to matters of race, colonialism, and inequality on a global scale. I am currently at work on a book that examines the changing biopolitics of citizenship in India since Independence, and I am keeping a wary and increasingly worried eye on the rising tide of Hindu fundamentalism in the country.
Community Engagement
In recent years, dissatisfied with the rather limited circulation of academic books and articles, I have taken to writing for newspapers, news magazines, websites, and blogs. For nearly three years, I wrote a regular column on cricket for ESPN and have regularly published pieces on politics, contemporary affairs, and public culture in The Hindu, Economic and Political Weekly, The Wire, India Today, and other publications, mainly in India.