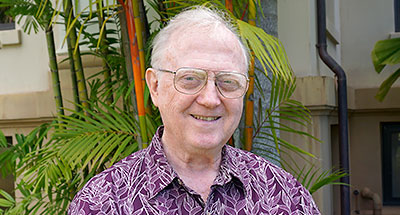 Richard W Chadwick
Professor Emeritus
Office: Saunders 616
Telephone: 1 (808) 956-7180
Email: chadwick@hawaii.edu
Website
---
Browse My Publications:

Background
In 1966, I earned my PhD at Northwestern in Political Science specializing in foreign policy decision making and simulation. I did post–doc research at Yale and ARPA work at Harvard's Center for International Affairs. Here at UH, I taught primarily in international relations and research methods in political science. I've done international research and consulting work on international trade modeling, arms race modeling, political instability, decision making, and Deming's management philosophy.
Education
PhD, Political Science, Northwestern University, 1966
BS, Political Science, Illinois Institute of Technology, 1962
Past Courses
POLS 110: Introduction to Political Science
POLS 315: Global Politics/International Relations
POLS 322: American Foreign Policy
POLS 323: Model United Nations
POLS 382: Political Leadership
POLS 390: Political Inquiry and Analysis
POLS 401: Teaching Political Science
POLS 601: Political Analysis and Theory Building
POLS 602: Research Techniques and Analytic Methods
POLS 605: Topics in Methodology
POLS 630: International Relations
POLS 635 (Alpha): Topics in International Relations
POLS 651: Political Leadership
POLS 730: Seminar: International Relations
Research
My research interests include global modeling, international politics, foreign policy decision making, research methods, and political leadership. General focus on global, and systemic trends in political-economic stability. I take various paradigmatic approaches — sometimes scientific, sometimes philosophical, and sometimes a practical or "social engineering" approach — to making a difference in how we understand, change, and sometimes transcend, in small ways, the political systems in which we live.