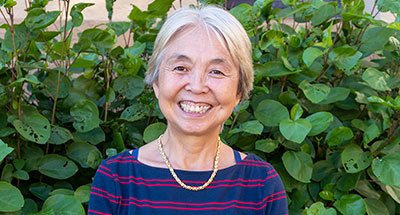 Kate Zhou
Professor
Office: Saunders 609
Telephone: 1 (808) 956-8777
Email: katezhou@hawaii.edu
---
Browse My Publications:

Background
After the Cultural Revolution, I went to study at the Department of Foreign Languages at Wuhan University majoring in English literature in 1978. I received my bachelor's degree in 1982 and taught at Zhongnan University of Finance and Economics. I also studied at the Beijing Foreign Study University in 1983-1984. I was admitted to Texas A&M University in 1986 and received my master's degree in 1989. At the same year, I was admitted to Princeton University and received my PhD degree in international politics in 1994 and received the Mellon Dissertation Fellowship. I have been teaching with the University of Hawaiʻi since 1994.
Education
PhD, Politics, Princeton University, 1994
MA, Politics, Princeton University, 1992
MS, Sociology, Texas A&M University, 1989
BA, English, Wuhan University, 1982
Courses
POLS 110: Introduction to Political Science
POLS 120: Introduction to World Politics
POLS 130: Introduction to American Politics
POLS 305: Global Politics/Comparative
POLS 308: Chinese Political Economy
POLS 315: Global Politics/International Relations
POLS 379: Power in America
POLS 640: Comparative Politics
POLS 645 (Alpha): Politics and Development: Regional
POLS 680: Asian and/or Pacific Politics
POLS 780: Seminar: Politics of Regions
Research
My main research interests include the dynamics of transition from central planning to markets, Chinese economic development, Chinese business, globalization in East Asia, comparative studies of businesses, and Asian entrepreneurship. I am also interested in the policies of aging in the Asia-Pacific region.
Community Engagement
I am the founder of Education Advancement Fund International which won the 2006 Templeton Freedom Award top prize for its successful Small Loan Initiative for Rural Women in Xiangxi, China, a program to empower poor women through education and entrepreneurship. In the future, working with Iolani School, I plan to bring high school students from lower-income families to do study abroad. Working with the Department of Public Health, I will help to bring Hawai'i senior care services to the Asia-Pacific region.