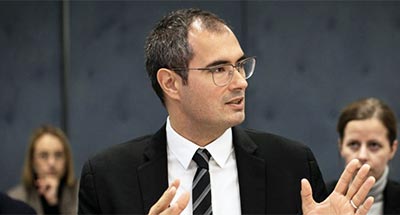 Jairus Grove
Professor, , Department Chair
Office: Saunders 617A
Telephone: 1 (808) 956-8743
Email: jairusg@hawaii.edu
Website
---
Browse My Publications:

Background
I grew up in Texas and went on to attend the University of Texas at Austin's History Program. After five years of coaching college debate, I returned to school at Johns Hopkins University to pursue a PhD in International Relations. I finished my PhD in 2011 and joined the UH Mānoa faculty the same year. I am currently the director of the Hawai'i Research Center for Futures Studies.
Education
PhD, International Relations/Political Theory, Department of Political Science, Johns Hopkins University, 2011
BA (with Honors), History, University of Texas at Austin, 2000
Courses
POLS 110: Introduction to Political Science
POLS 171: Introduction to Political Futures
POLS 201: Problems of War and Peace
POLS 305: Global Politics/Comparative
POLS 315: Global Politics/International Relations
POLS 335: History of Political Thought
POLS 342: Political Design and Futuristics
POLS 390: Political Inquiry and Analysis
POLS 406: Senior Seminar in Political Science
POLS 600: Scope and Methods of Political Science
POLS 635 (Alpha): Topics in International Relations
POLS 672: Politics of the Future
POLS 673: The Future of Political Systems
POLS 702: Seminar: Research Methods
POLS 720: Seminar: Indigenous Theory
POLS 730: Seminar: International Relations
Research
My work so far has centered on the ecology and future of global warfare. I am interested in the ways war continues to expand, bringing an ever greater collection of participants and technologies into the gravitational pull of violent conflict. I am also interested in various approaches to global relations such as systems theory, cybernetics, and complexity theory, as well as the role new media play in altering the interface with global relations. In my spare time, I collect vinyl and co-edit The Contemporary Condition with William E. Connolly.