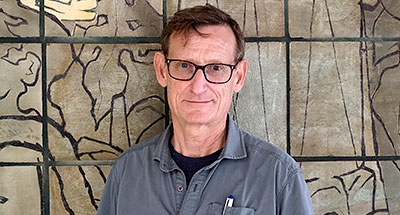 Jonathan Goldberg-Hiller
Professor
Office: Saunders 632B
Telephone: 1 (808) 956-8563
Email: hiller@hawaii.edu

Background
I completed my BA in political science at Reed College (1979) and my MA and PhD at the University of Wisconsin, Madison (1991), with emphasis in public law, comparative politics, and Marxist theory. Prior to graduate school, I had the opportunity to live and teach in West Africa, and subsequently I taught at Reed College prior to joining the faculty at UH.
Education
PhD, Political Science, University of Wisconsin-Madison, 1991
MA, Political Science, University of Wisconsin-Madison, 1983
BA, Political Science, Reed College, 1979
Courses
POLS 110: Introduction to Political Science
POLS 374: Law, Politics and Society
POLS 375: Constitutional Law I: Institutional Power
POLS 376: Constitutional Law II: Rights and Liberties
POLS 377: Topics in Law and Politics
POLS 385: American Politics
POLS 406: Senior Seminar in Political Science
POLS 600: Scope and Methods of Political Science
POLS 610: Political Theory and Analysis
POLS 660: Public Law and Judicial Systems
POLS 670: Introduction to Public Policy
POLS 710: Seminar: Political Thought
POLS 770: Seminar: Public Policy
Research
I have recently been studying the ways changing forms of identity, nationalism, political authority and political economy have modulated the mobilization of rights in various contexts. By starting with these dimensions of social life rather than with rights discourses themselves, I have tried to understand how rights are resisted and how they retain relevancy; in this vein, I have researched such contemporary phenomena as the conservative reaction against same-sex marriage, opposition to the political recognition of indigenous peoples, and efforts by labor unions to boycott legal regulatory machinery. I am presently embarking on a study of the means by which Indigenous peoples in the Pacific have mobilized rights that lack constitutional or jurisdictional authority and how these ideas about rights have traveled across space and time, altering Indigenous identities and redirecting political demands.