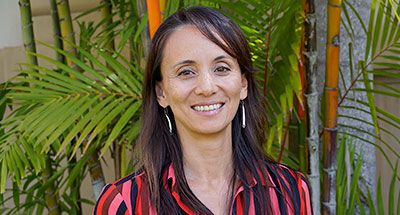 Noelani Goodyear-Kaʻōpua
Professor, Interim Assistant
Vice Chancellor of Academic Personnel
Office: Saunders 634A
Telephone: 1 (808) 956-8928
Email: goodyear@hawaii.edu
Professional website
---
Browse My Publications:

Background
He Kanaka Maoli Hawaiʻi au. ʻO Oʻahu kuʻu one hānau. My interest in the political stems from my earliest days, as a keiki born to young activists who were also UH undergraduates. My parents raised me around student movements and exposed me to many ways Hawaiʻi communities were organizing against evictions, environmental degradation, and economic injustice in the 1970s and 80s. As a UH undergraduate myself in the 1990s, I was surrounded by teachers and fellow students participating in the Hawaiian sovereignty movement. From this movement, I have learned that the most valuable places to invest our time and energy are into education and into the ʻāina. One of my primary goals is to nurture students who are critical thinkers and doers, equipped to stand up for what they believe in.
Education
PhD, History of Consciousness, University of California, Santa Cruz, 2005
BA, Hawaiian Studies and Political Science, University of Hawaiʻi at Mānoa, 1996
Courses
POLS 140: Introduction to Indigenous Politics
POLS 301: Hawai'i Politics
POLS 302: Native Hawaiian Politics
POLS 303: (Alpha) Topics in Hawai'i Politics
POLS 304: Indigenous Politics
POLS 390: Political Inquiry and Analysis
POLS 401: Teaching Political Science
POLS 403: Community Internship
POLS 404: Senior Thesis
POLS 605: Topics in Methodology
POLS 620: Introduction to Indigenous Politics
POLS 621: Politics of Indigenous Representation
POLS 684: Contemporary Native Hawaiian Politics
POLS 686: Politics of Hawai'i
POLS 720: Seminar: Indigenous Theory
POLS 776: Indigenous Nations and the Problems of Sovereignty
POLS 777: Decolonial Futures
Research
I have long been interested in the ways Indigenous people theorize and practice sovereignty. My previous research projects have involved documenting, analyzing, and proliferating the ways people are transforming imperial and settler colonial relations through Indigenous political values and ʻāina-based initiatives. This includes books and articles on Hawaiian social movements, Indigenous resurgence, and Indigenous futures. My recent book, Nā Wāhine Koa: Hawaiian Women for Sovereignty and Demilitarization (2019) is a collaboration with four activist elders who helped catalyze Hawaiian movements of the late 20th century. I am currently working on an intellectual biography of Dr. Haunani-Kay Trask. These two projects represent my increasing focus on mana wahine theory and Indigenous feminisms.
Community Engagement
I am committed to improving public education in Hawaiʻi. A co-founder of Hālau Kū Māna public charter school, I continue to support K-12 education by helping train teachers and emergent leaders working at various Hawaiian-focused schools. I serve on the non-profit boards of Kānehūnāmoku Voyaging Academy on Oʻahu and the Hui o Kuapā fishpond restoration project on Molokaʻi. Both are at the cutting edge of what it means to do ʻāina-based education in Hawaiʻi. I led the creation of the Movement-Building for Ea curriculum for community organizers. I serve on the editorial boards for various journals, and I volunteer as a co-editor of the Indigenous Pacifics series under UH Press. From 2016-2019, I served on the elected council of the Native American Studies and Indigenous Studies Association.